"We Are the Home for the Dreamers": "Sisi Ndio Nyumba ya Waotaji".
From decades of colonial repression, war, and division, a generation has emerged in Central and East Africa. A generation not only demanding change but actively working to bring about change.
Division causing petty jealousies and the inefficient use of the funding dollar has invoked a need for unity, accountability, transparency, and the responsible and efficient use of money.
"We Are the Home for the Dreamers" has been established to provide leadership and direction in the vast field of humanitarian aid for disadvantaged men, women, and children. Humanitarian aid that includes, accommodation, food, clothing, education and training in dance, arts and crafts in Goma, D.R.C and Arusha, Tanzania.
A board of directors and a management team will scrutinise all requests for funding. Requests will need a budget and a business plan with a commitment to keeping good records and receipts.
Central and East Africa has been devastated by war, volcanic eruptions and the Covid 19 pandemic. There is an urgent need for money to support multiple programmes until they become self-sufficient again, generating their own sustainable incomes.
The board of "We Are the Home for the Dreamers", has representatives from: Kongo People TV, Africa's Tears, Invisible Kids, Babu na Mwana, Nyumba ya Muotaji, 
The GoFundMe campaign will be administered from Australia during the development stage and funds will be dispersed to Africa, through Western Union and World Remit.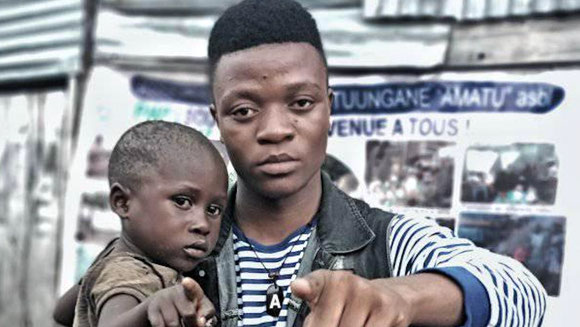 Jospin Katendere is Congolese, born 2001 in Goma, DRC.
Jospin began dancing at an early age and at the age of 15 became involved in the supervision of Street Children. He then began teaching dance and movement to hearing impaired children.
2017 saw Jospin establishing African's Tears. The motivation to wipe away the tears of marginalised, disadvantaged people, particularly children and the untimely death of his father, animates him. African's Tears now has their own rented centre where they provide accommodation, food, craft, and dance training and provides school fees and uniforms to vulnerable children.
Covid 19 and the eruption Mount Nyiragongo has made it very challenging to gain funds, but Jospin and his crew are optimistic about the future.
The current security situation in northeast Kivu where Goma is situated, has made local fundraising extremely difficult.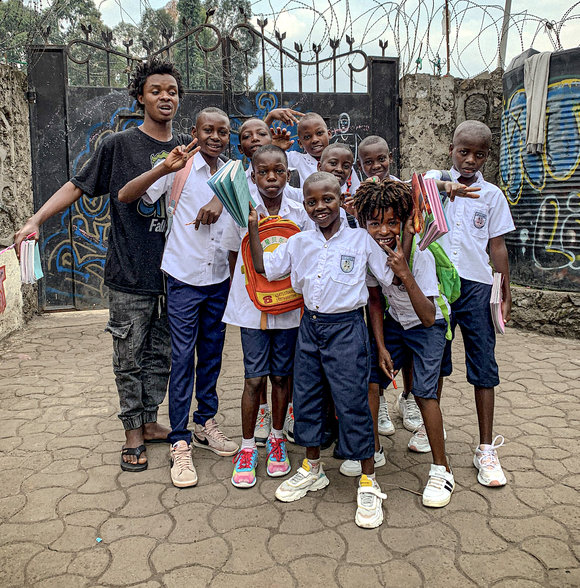 Bush Sebar, was born in the Territory of Rutshuru, Chiefdom of Bwisha, as a child he moved to the city of Goma.
Sebar graduated in 2020 from  the Fidelité de Force secondary school in Goma. His educational focus was on Nuitrition with a vision of developing a program of  good nutrition for children in the fight against malnutrition and starvation  for orphaned children.  At the age of 16, Sebar was already supporting a child from his neighbourhood.
After graduation from school in 2021, Sebar opens a Cultural Center for Children, with the aim of supervising children in Goma.  The same year  he started a project, Nyumbani Connect,  designing and sewing items that identify creativity and culture in Africa using traditional  loincloth.  Today, these works are sold in these countries, Congo, Rwanda, Canada, USA, France, and Kenya.
Sebar is a coordinator of  KIVU FUTURES, an event organized every year. It welcomes artists from different parts of eastern DRC and other African countries. The event was developed with the aim of bringing together artists and dancers from different tribes to raise the healing, unifying power of dance in African countries, thus promoting peace and unity.
Sebar lives and works in Goma and continues to pursue his passion of caring for 14 children at the  INVISIBLE KIDS ACADEMY.
The current security situation in northeast Kivu where Goma is situated, has made local fundraising extremely difficult.
Akonkwa Bujiriri Hosea, a native of Goma, Democratic Republic of Congo, is artistically known as Osée Elektra. Hosea was born 2000 into a city shattered, martyred, and immolated on the altar of almost incessant wars and conflicts for almost three decades. Circumstances flung Hosea and his family onto the streets when he was 9 years of age, a period he describes as the worst in his young life. A taste of the wickedness surrounding him forged a compassion and passion that has led to his commitment to other children who face similar disastrous circumstances.
Having lived in continual crises we have kept faith in resilience, in this last breath of people who say no to death even when life exposes us to it. We also continue to believe in the hope we create in the lives of each child impacted by our activities, and we hope we are not alone.
2018 saw Hosea giving workshops and training in the oratorical arts to Street Children. This evolved into the concept of "Wazo" (The Idea), the objective being not to be the voice of those who have lost theirs but to equip them so that they are also able to put words about their ailments and trigger in them the flame of hope long extinguished by the shape of their lives.
Hosea organises artistic creation sessions with children in two support centres for children living in the street of Goma.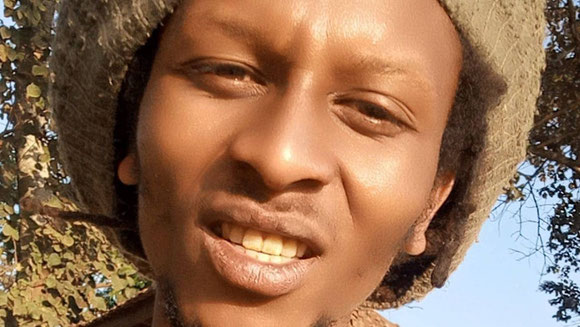 Emanuel Amani Mbise born 1995, Singida, Central Tanzania. Moving with his family to Nkomansa at a young age, to the paternal family village. He ran away to the 'Street' when he was 15 from a dysfunctional home plagued by alcoholism and abuse.
Emanuel was one of the first students who began the metal jewellery program, established in 2016, through an NGO in Nkoaranga. He graduated in 2018 from the program and is now teaching silversmithing to Maasai Women and has a studio BABU NA MWANA where he teaches traditional and contemporary jewellery making to other disadvantaged people.
In 2017-18, Emanuel responded to a need for sweaters at the public school in Nkoaranga and organised a fundraiser which was able to purchase 300 garments. He was also instrumental in arranging for a married friend to acquire a new prosthetic leg.
There are thousands of young men like Emanuel, your participation will assist in changing the lives of many of them.